Ocasio-Cortez's Misleading Claim About Trump and Opioid Epidemic Funding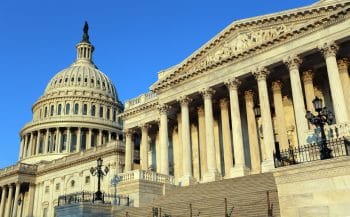 Washington Post Fact-Checks Ocasio-Cortez's Tweet
Freshman Rep. Alexandria Ocasio-Cortez (D-NY) is in hot water after being fact-checked by members of the Washington Post. While retweeting a video clip of herself from C-SPAN, the representative contrasted President Trump's push to use emergency funds for a border wall, but not for the Opioid Epidemic. Yet, as Post fact-checkers quickly pointed out on Tuesday (March 12), AOC's comparison of the two national emergencies is not entirely accurate.
It all started with a six-minute clip from C-SPAN including Ocasio-Cortez questioning White House director of drug policy, James W. Caroll. In their tweet, C-SPAN tagged the Representative and quoted her saying, ".@RepAOC @AOC compares #OpioidCrisis to #SouthernBorder: "So, we've got two emergencies, one is treated with an actual action and the other is just to raise awareness."
At the time the Post article was published, Ocasio-Cortez's tweet had been retweeted and liked nearly 50,000 times (approximately 46,000 as of this writing).
A Misleading Comparison
Post writer, Glenn Kessler, gave AOC three out of four Pinocchio's for her statement for using misleading information to prove her point. The congresswoman indicated how little money had been diverted to the Public Health Emergency Fund (with a current balance of approximately $57,000, according to the Government Accountability Office). Recently however, the President has declared a national emergency to secure $5.7 billion for a proposed border wall.
"Trump has no need to transfer billions of dollars for the Opioid emergency because Congress already has appropriated billions of dollars. Trump's backing of a national public-health emergency did more than raise awareness; it triggered a congressional response," wrote Kessler.
The congressional funds Kessler is referring to include the $6 billion appropriated to combat the Opioid crisis, with $4.4 billion in fiscal 2019 funding.
Representative Ocasio-Cortez's staff did not respond to communication from The Fact-Checkers at the Post. It's not the first time her team has come under scrutiny for misleading claims. In January, Kessler gave AOC the same Pinocchio rating for her statements on the proportion of Americans earning at least minimum wage.
Opioid Crisis Funding and Resources
In August 2017, the President instructed government authorities to use emergency funding to combat the increasing effects of the Opioid Epidemic. At the time, a public health emergency was declared and has been renewed five times since. The declaration prompted Congress to approve $6 billion in funds, including:
$1.5 billion for state response grants
$500 million for research
$475.6 million for prescription Opioid overdose prevention
$120 million for rural communities
$89 million for medication-assisted treatment (such as Methadone and Buprenorphine)
The final Substance Use-Disorder Prevention that Promotes Opioid Recovery and Treatment (SUPPORT) for Patients and Communities Act that Trump signed in February includes funding, such as:
$87.5 million for offender reentry and research activities
$77 million for drug courts
$22 million for uniformed individuals battling addiction
The surge in funding–in addition to the expansion of Medicaid in several states in 2018–has created a number of new programs across the country to promote addiction recovery. The Substance Abuse and Mental Health Services Administration (SAMSHA) maintains a database of recovery programs in each state.