Johnson and Johnson Pays $20.4 Million to Ohio Counties to Settle Opioid Lawsuits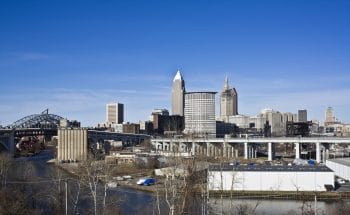 Johnson & Johnson Reaches a Settlement to Avoid Trial in Ohio
On October 1, Johnson & Johnson agreed to pay two Ohio counties a total of $20.4 million to settle legal claims about the company's role in fueling the ongoing Opioid Epidemic. According to the terms of the settlement, Johnson & Johnson will pay $10 million to Cuyahoga County and Summit County. The company will also give the two counties $5 million to reimburse them for their legal expenses and agreed to donate an additional $5.4 million to non-profit organizations in both counties to support treatment for Opioid addiction. The settlement agreement requires the approval of a federal judge.
Cuyahoga and Summit County neighbor each other in northeastern Ohio. In 2017, Ohio suffered the second-highest rate of fatal opioid overdoses, with 4,293 deaths across the state. On October 21, a federal trial will begin in Cleveland, the county seat of Cuyahoga County, to resolve about 2,000 lawsuits against Opioid manufacturers. As a result of the settlement with the two counties, Johnson & Johnson will not be a defendant at the Cleveland trial. However, the State of Ohio has vowed to continue its own lawsuit against Johnson & Johnson in state court.
Johnson & Johnson is the fifth Opioid manufacturer to reach a settlement with Cuyahoga County and Summit County. In August, Allergan and Endo Pharmaceuticals agreed to pay the two counties a combined settlement of $15 million. In September, Mallinckrodt Pharmaceuticals offered the two counties a $30 million settlement. That same month, Purdue Pharmaceuticals settled claims with Cuyahoga County and Summit County as part of a multi-billion dollar settlement with over 2,000 plaintiffs, including 24 states. Multiple Opioid manufacturers and distributors, including Actavis Generics and Walgreens, have not settled with the counties and will face trial in Cleveland.
The Company Does Not Admit Wrongdoing
Johnson & Johnson, one of the world's largest corporations, has profited from the Opioid business for many years. Janssen Pharmaceuticals, a Johnson & Johnson subsidiary, manufactures and sells a variety of Opioid painkillers, including the Fentanyl-based Duragesic® patch and Tapentadol-based Nucynta® tablets.
According to the plaintiffs in the Cleveland trial, Johnson & Johnson and other pharmaceutical corporations deceptively advertised their Opioid products as safer and less addictive than they truly are. Furthermore, the plaintiffs allege that Opioid manufactures bribed doctors to prescribe Opioids to their patients. As a result, thousands of patients became addicted to Opioids and many died from overdoses. However, Johnson & Johnson claims that Janssen Pharmaceuticals "responsibly marketed"  its products. In the wake of the settlement, the company clarified that the agreement does not constitute an "admission of liability." Instead, it protects the company from the risks of a trial.
Johnson & Johnson's Recent History with Lawsuits
In August, an Oklahoma judge ordered Johnson & Johnson to pay a $527 million fine to the State of Oklahoma at the end of a seven-week "public nuisance" trial. Judge Thad Balkman agreed with the State of Oklahoma that Johnson & Johnson bears some responsibly for the deaths of 4,653 Oklahoma residents who suffered Opioid overdoses from 2007 to 2017. "The Defendants' opioid marketing, in its multitude of forms, was false, deceptive and misleading," Judge Balkman wrote, referring to Johnson & Johnson. In his written decision, Judge Balkman admonished the company for developing pro-Opioid "education" and conference programs for doctors and for neglecting to train their sales representatives to understand Opioid risks.
After Judge Balkman announced his ruling, Johnson & Johnson appealed their case to the Oklahoma Supreme Court. The company refused to accept blame for the overdose crisis in Oklahoma, partially because the company claims that its Opioid products account for less than 1% of the American Opioid market. The State of Oklahoma and other parties which have sued Johnson & Johnson question that claim.