A Doctor and Nurse in Alaska Face Federal Charges for Overprescribing Opioids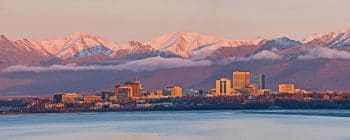 Two Medical Professionals Arrested and Charged for Illegal Opioid Distribution in Alaska
On October 9, the United States Attorney for the District of Alaska announced charges against a doctor and a nurse for irresponsibly and unnecessarily prescribing hundreds of thousands of Opioid painkillers. The doctor and the nurse managed separate medical practices and never collaborated with each other, but they both fueled the Opioid Epidemic in and around the city of Anchorage, according to the Justice Department. Earlier this month, DEA officials in the Attorney General's Rural Alaska Anti-Violence Enforcement Network (RAAVEN) arrested the two defendants, Dr. Lavern R. Davidhizar and Jessica Joyce Spayd, after investigating their prescription habits. Federal prosecutors then charged them both with illegally distributing controlled substances and charged Spayd with the additional crime of distributing narcotics resulting in death.
If a jury convicts Davidhizar, he will face a maximum sentence of twenty years in prison. If Spayd is found guilty, she will face twenty years in prison as a mandatory minimum sentence, although a federal judge could send her to prison for many more years.
The Case of Lavern R. Davidhizar: How an Undercover Operation Brought Down Alaska's Opioid "Candy Man"
Lavern R. Davidhizar had practiced osteopathic medicine in Soldotna, Alaska since 1978. Soldotna is a small town on the Kenai Peninsula with a population of about 4,000 people, but Davidhizar's patients came from all over Alaska for easy access to powerful, addictive Opioids. The Justice Department alleges that Davidhizar prescribed over 700,000 Opioid pills from 2017 to 2019. He most commonly prescribed Oxycodone, Hydrocodone, Morphine, Methadone, and Tramadol, and he did so without testing patients for chronic, severe pain. He also neglected to keep records of how many Opioids he gave his patients.
Davidhizar was already a subject of suspicion for medical regulators in Alaska. He received a warning, a $5,000 fine, and two years probation in 1999 for writing prescriptions without medical records. After he resumed his practice, the Alaska State Medical Board received numerous complaints about his tendency to prescribe Opioids for minor pain, causing many of his patients to develop Opioid use disorders. In 2009, the Board again suspended Davidhizar's medical license, this time for five years, as a result of the complaints.
Earlier this year, DEA and FBI investigators discovered that Davidhizar was known in Alaska as the "Candy Man" for people who wanted Opioids, no questions asked. When one undercover agent visited his office and claimed to suffer from headaches, Davidhizar gave him a prescription for Oxycodone. Two weeks later, the agent returned and received another Oxycodone prescription, despite telling Davidhizar that he had become addicted to Opioids. The investigation quickly resulted in Davidhizar's arrest.
The Case of Jessica Joyce Spayd, a Dangerous Nurse
While Davidhizar was instigating Opioid addiction from his office in Soldotna, a licensed nurse was overprescribing Opioids in Anchorage. Jessica Joyce Spayd specialized in pain management and, ironically, addiction treatment. At her Eagle River Wellness clinic, Spayd utilized the medication Suboxone to help her patients withstand Opioid withdrawal. While Suboxone can be effective as part of a comprehensive treatment plan for Opioid addiction, the medication is also risky because one of its active ingredients is the Opioid Buprenorphine.
Additionally, Spayd prescribed her patients other Opioids, including Oxycodone, Methadone, and Hydromorphone, even though she knew her patients were vulnerable to overdose, according to a Justice Department affidavit. In fact, 89% of her patients from 2014 to 2019 received Opioid prescriptions, and prosecutors allege that at least 19 of her patients died from an overdose within one month of visiting her.
By the time of her arrest, Spayd had prescribed more than 4 million doses of Opioids and had developed a client base of over 450 patients, some of whom lived in cities as distant as Fairbanks. DEA investigators grew suspicious of Spayd when they noticed that her network of patients spanned Alaska, many of her patients received multiple prescriptions for the same Opioid, and some pharmacies in Anchorage refused to fill prescriptions which Spayd had written.
The Justice Department believes that Spayd and Davidhizar abused their positions as licensed healthcare providers to profit from an ongoing public health crisis. As they both prepare to face trial, DEA Agent Keith Weis warned other doctors and nurses in Alaska who overprescribe Opioids that the "DEA and its partners will continue to aggressively address illicit drug trafficking throughout the entire State of Alaska under Operation RAAVEN."